Social Skills Groups are held at:
The Social Skills Place, Inc.
310 S. Happ Rd, Suite 201
Northfield, Illinois 60093
Date and times:
Elementary School
Tuesday's 4:00PM-4:45PM
Thursday's 4:30PM-5:20PM
Middle School/Jr.High
Monday's 5:00PM-6:50PM
Thursday's 5:00PM-5:50PM
High School/College
Tuesday's 6:30PM-7:30PM
Parent Group
Wednesday's 1:00PM-2:30PM
Wednesday's 7:00PM-8:30PM
---
Founder:
Susan Stern, MSW, LCSW
Telephone:
(847)446-7430
Visit us at:
www.socialskillsplace.com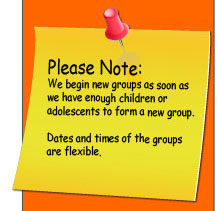 A tendency to think and act spontaneously rather than from fears based on past experiences.
An unmistakable ability to enjoy each moment.
A loss of interest in judging self.
A loss of interest in judging others.
A loss of interest in conflict.
A loss of interest in interpreting the actions of others.
A loss of ability to worry.
Frequent, overwhelming episodes of appreciation.
Contented feelings of connectedness with others and nature.
Frequent attacks of smiling through the eyes of the heart.
Increasing susceptibility to love extended by others, combined with the uncontrollable urge to extend it.
An increasing tendency to let things happen, rather than make them happen.

- Author Saskia Davis
Have happy holidays and a Happy New Year!
-- Susan Stern, LCSW is the founder of The Social Skills Place, Inc.